Our Team
Ken Schapiro, MBA, CFA®
Chief Executive Officer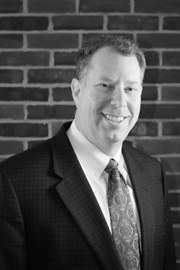 Ken Schapiro founded Condor Capital in 1988 and serves as its Chief Executive Officer. At the time of its founding, Ken wanted to fill a hole in the financial services industry—that of a fee-only advisor. Because of Ken's desire to provide clients with low fees, ready access to performance data, and a trustworthy source of financial advice, Condor Capital has been a fiduciary since its inception. Ken takes pride in Condor's commitment to its clients and their best interests.
As a Chartered Financial Analyst charter holder, Ken manages portfolios for high-net-worth individuals, trusts, pension plans, and corporations. Ken and Condor Capital have been named to Barron's Top 1200 Financial Advisors each year since 2017. Ken is a past President of the Counsel of Independent Financial Advisors (CIFA), a nationally recognized association of independent investment advisors. Ken was also previously named one of the 40 under 40 by NJbiz magazine. He is a current member of TIGER 21, a peer-to-peer networking group of wealth creators.
During his years as a financial advisor, Ken made it a priority to keep himself aware of new trends and technologies that might be beneficial to his clients. One of those trends struck him as particularly ripe for deeper analysis: robo advisors. To that end, Ken created The Robo Report®, which is published each quarter to detail performance, fees, assets, and a host of other parameters on robo advisors. Ken and The Robo Report®'s findings have been featured in multiple issues of Barron's, The Wall Street Journal, Money, and other industry publications.
In addition to Condor Capital Wealth Management, Ken is the President of Courtside Racquet Club, a top-class tennis facility that was the recipient of the 2009 USTA National Facility of the Year Award, and was recognized as a USTA Premier Facility from 2013-2018.
Ken graduated Cum Laude from the University of Colorado at Boulder in 1987, earning a Bachelor of Science Degree in Finance. He remained at The University of Colorado at Boulder to attend the Leeds School of Business, where he earned a Master's of Business Administration Degree in Marketing in 1988. In addition to becoming a Chartered Financial Analyst in 1992, Ken recently became a Certified Trust and Financial Advisor through the American Bankers Association.
Outside of the office, Ken spends his time playing tennis and skiing. Skiing in particular is a much-beloved pastime for Ken, and he will travel all over the world for opportunities to ski year-round. He particularly enjoys heli-skiing, where skiers are brought to remote locations to ski on unmarked trails. He's been married to his wife, Lisa, for 30 years, and has two adult children, Samantha and Zachary. While he is the boss at work, the boss at home is the family dog, Chaos.
David Goldstone, CFA®
Manager of Investment Research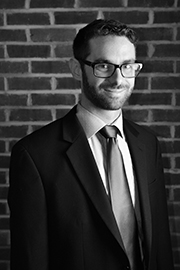 David joined Condor in September of 2021. David graduated from Colorado College with a bachelor of arts degree in Biology. After graduation, David started his finance career living in Shanghai, where he interned as a financial analyst and worked for a finance-themed conference and events company. After returning from abroad, he worked as a financial advisor at Waddell and Reed, as well as a lender and financial advisor for 1st National Bank of Omaha. As the manager and co-author of The Robo Report®, David is a subject matter expert in the robo advice industry. David has contributed robo advice-related research to, or been quoted in, Barron's, WSJ, Money, and Forbes, among other publications. David is a CFA charterholder.
In his current role as a Manager of Investment Research, David engages in research, and assists in the construction and oversight of portfolio strategies and client-specific portfolio analysis. In addition, his role supports the financial planning team in creating successful long-term strategies for clients. David also participates in working with clients directly, and enjoys helping identify, plan for, and achieve their long-term financial goals.
Outside of the office, David likes being outdoors. He is an avid backpacker, hiker, skier, and snowboarder, and enjoys spending time in the wilderness.
Thomas Leahy, CFA®
Senior Research Analyst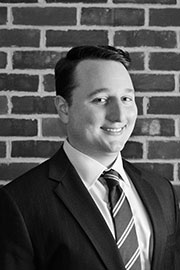 Tom Leahy is a Senior Financial Analyst at Condor Capital. Before joining Condor, Tom graduated Magna Cum Laude from Rutgers University, with a Bachelor of Arts degree in Economics and a minor in Philosophy. Additionally, Tom worked for BlackRock, where he consulted large New York-based Registered Investment Advisors on ETF selection, portfolio construction, and manager due diligence. Tom is also a CFA charterholder.
In his current role, Tom meets with clients, provides research to the investment committee, and contributes to the financial planning process. He is passionate about his career. The ability to help clients secure their retirement through earnest listening, timely advice, and investment recommendations motivates him every day. Finally, Tom is also the co-author and an investment analyst of The Robo Report®, the industry's gold standard for real data and analysis of robo advisor performance.
Outside of the office, Tom is an avid learner. Whether economics, philosophy, or NBA fantasy basketball, Tom loves to engage his mind. If you want to make him happy, just ask him what he thinks about something. Tom also loves the Beatles and Grunge-era rock music.