A Snapshot of Automated Investing – AUM & Growth
Posted on August 26, 2020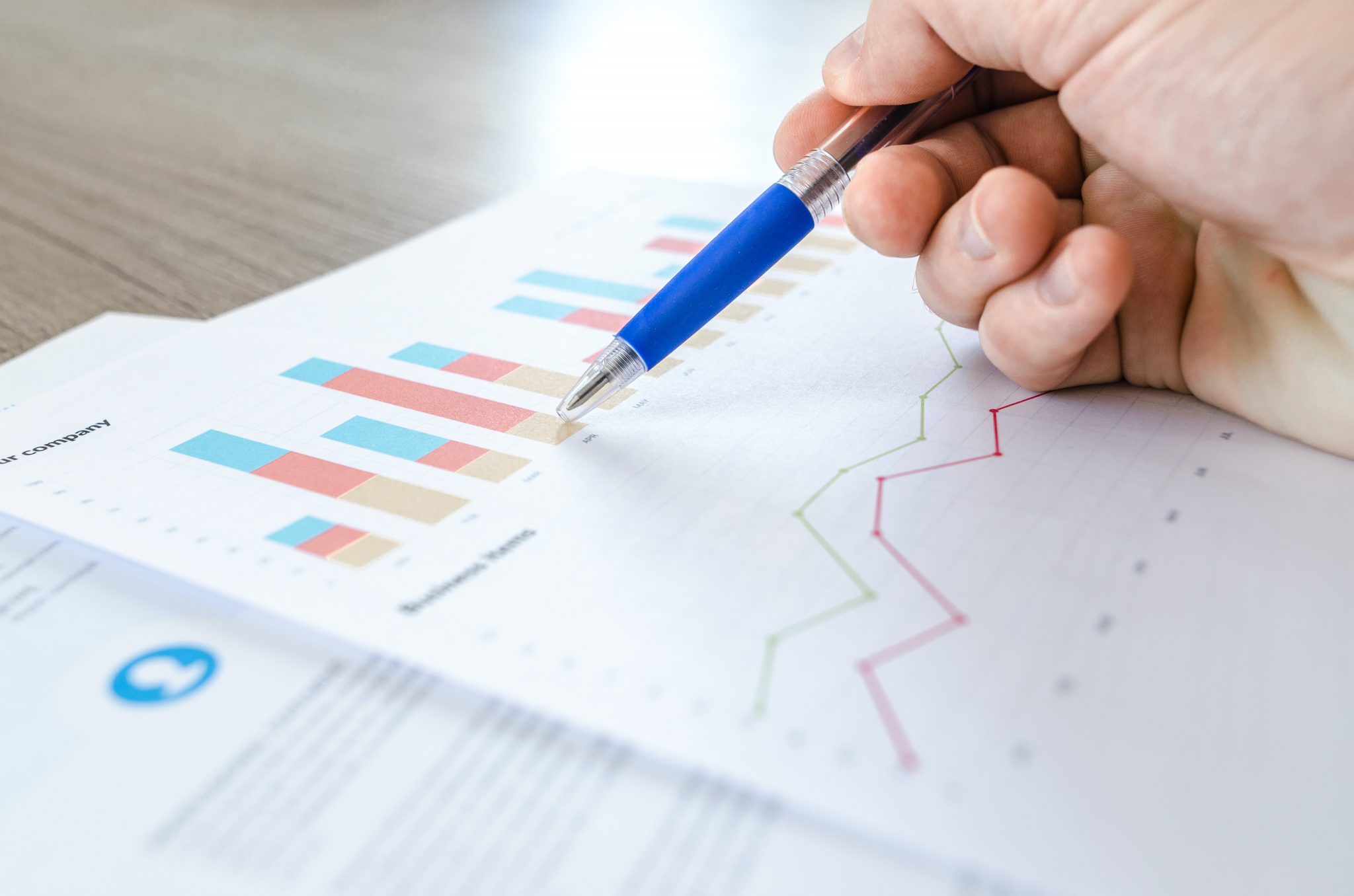 At the end of 2019, we estimate that robo advisors had approximately $631 billion of assets under management (AUM)
The breakdown includes $247 billion with incumbents, $50 billion with independents, and $334 billion with robo retirement providers
Our "Top 5" group experienced a 38% year-over-year increase through the end of 2019
Overview
At the end of 2019, we estimate that robo advisors had approximately $631 billion of assets under management (AUM). Of this $631 billion, $247 billion is invested with incumbent financial institutions, $50 billion with independent robos, and $334 billion with robo retirement providers. Compared to the size of the market figure published last year by Backend Benchmarking, this year's estimate now includes two additional workplace retirement providers—Morningstar Retirement Advice and Fidelity Investments PPA at Work, which together total $131 billion.
2020 Digital Advice Market AUM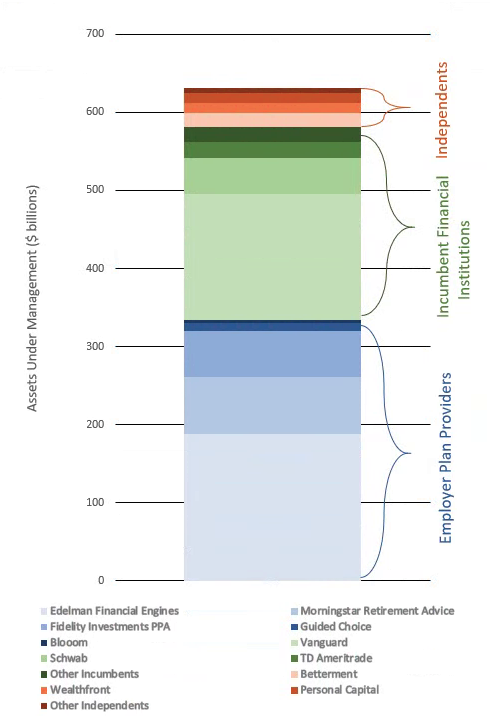 Top 5 Grew 38%
Our "Top 5" group of Vanguard, Schwab, Betterment, Wealthfront, and Personal Capital experienced a 38% year-over-year increase through the end of 2019. The asset growth at these providers has been supported by the tailwind of strong market returns in 2019, during which the S&P 500 returned over 30%. But this does not explain the entirety of the asset growth. Vanguard headlines this move, growing from approximately $115 billion in 2018 to $161 billion in 2019. Personal Advisor Services continues to be the industry leader with its hybrid-advisor offering. Vanguard may increase its dominance in terms of AUM if its newly launched Digital Advisor product is as successful as Personal Advisor Services.
Schwab's robo products grew from $33 billion to $47 billion. This was supported by Schwab's popular decision to move to a subscription-fee model with Intelligent Portfolios Premium when it rolled out last year. Personal Capital grew over 50% from its 2018 AUM of $8 billion to over $12 billion in 2019. Personal Capital benefits from having exceptional tools and a clear value proposition to mass-affluent clients looking for a modern approach. We expect Personal Capital to accelerate its strong growth in the wake of its acquisition by Empower Financial.
Betterment and Wealthfront consistently add a few billion dollars to their AUM each year. For this analysis, we excluded the high-yield cash accounts that have become popular at Betterment and Wealthfront. These account for roughly $5-$10 billion in additional assets at each provider. With interest rates near zero, it is possible that the growth in these accounts declines as yields on cash are less attractive. Overall, the leading robo advice providers have continued their strong run into 2020. One might have expected this momentum to halt due to the pandemic, but this was not the case.
Top Digital Advice Provider AUM Growth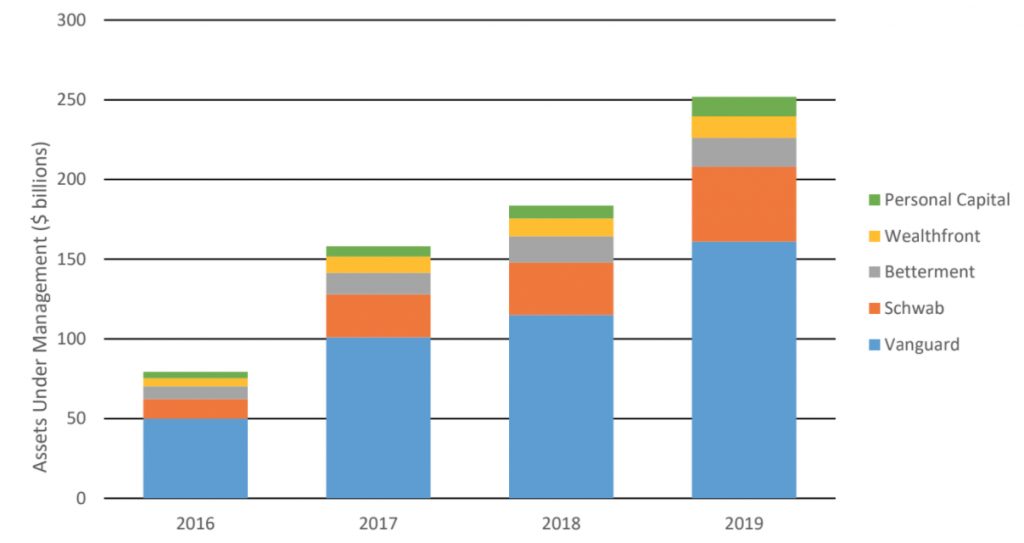 Robos Benefit from COVID-19
While the COVID-19 crisis sparked a period of historic market volatility, digital advice providers appear to be faring well in the crisis. They may even be seeing net benefits. Reports claim that new client sign-ups and activity held strong and, in many cases, increased during the months when markets were the most volatile this year.
Bloomberg reported that TD Ameritrade's new account openings for its automated investment offering surged 150% compared to the same period last year; Schwab told Bloomberg that March was one of the best months for flows it has ever had. Independent robos have also reported surges in new accounts during the first half of the year. Wealthfront announced account sign-ups are up 68% since the sell-off began, while Betterment reported a first-quarter increase for account openings of 25% over last year.
Robos were well positioned to take advantage of this crisis since they are naturally prepared for remote work and virtual client communication as opposed to business models that rely on in-person meetings. Also, digital advice providers have been effectively communicating with clients about their investments via online videos, emails, and reports. Titan Invest recently shared with us that 75% of their subscribers engage with their weekly emails that cover timely, relevant investing topics.
Additionally, we are seeing early signs that robos may be effectively mitigating behavioral shortfalls common with individual investors. Historically, studies have shown how the average investor's timing is a significant detractor from performance, i.e. selling at market lows and buying at market highs. We are seeing some early evidence that robo clients are bucking the trend of panic selling and are instead remaining invested as the market recovers.
All images produced by Backend Benchmarking for use of Backendbenchmarking.com
News
Tagged
AUM
,
Betterment
,
Personal Capital
,
Schwab
,
Vanguard
,
Wealthfront